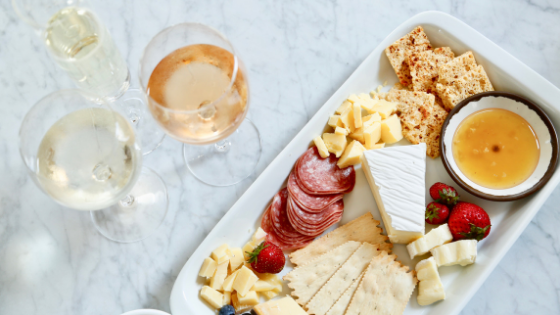 A brie appetizer has a way of making any get-together just a tad more special. So whether you're hosting a large gathering or just having a few besties over for drinks, make sure to have one of these two brie appetizers available for your guests to munch on.
Brie and Apple Pull-Apart Bread
Ingredients
1 round of sourdough bread
1/2 cup (1 stick) butter, melted
2 teaspoons fresh rosemary, minced
1/2 apple (Honeycrisp or McIntosh are good choices), sliced thin
1/2 pound brie cheese, sliced thin
Directions:
Preheat oven to 375° F.
Start by slicing the sourdough round diagonally in one direction (do not cut all the way through the loaf). Then cut the bread round diagonally in the other direction to create a criss-cross pattern.
Gently fan out the sections of the bread to create sections.
Pour melted butter over the bread, making sure to get it into each cut.
Add a slice of cheese and apple on one side of each section.
Cover the bread with foil and bake for approximately 10 minutes
Remove the foil and continue baking for another 10 minutes until golden brown and the cheese is melted.
Best served immediately.
Bacon-Wrapped Brie
Ingredients:
2 tablespoons balsamic vinegar
1 tablespoon rosemary, chopped
3 cloves garlic, crushed
8 ounces round brie cheese
4 slices of bacon, cut in half
Directions
Preheat the oven to 400° F.
Mix the balsamic vinegar, rosemary, and garlic together in a small bowl.
Brush the mixture on top of the cheese round.
On a dish, lay four of the bacon halves horizontally, side by side and as close together as possible. Next, weave a bacon slice vertically through the horizontal slices. Repeat with the remaining three slices to form your bacon weave.
Place the weave on top of the brie and tuck the ends underneath.
Put the bacon-wrapped brie on a wire rack on a foil-lined baking sheet and place in the oven.
Bake for 30 minutes.
Serve with crackers or slices of French bread.
Do you love cooking and are in search of a new apartment that boasts a great kitchen? Then please check out our spacious apartments in Houston. Our beautiful floor plans include a gourmet kitchen with stainless steel appliances.