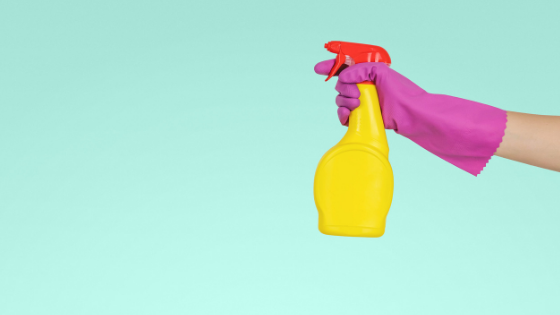 Residents who live within the Haven at Eldridge community value eco-friendly solutions that also contribute to a healthier living environment. Here we offer alternatives to those over-the-counter household cleaners that contain many chemicals. You will see that Mother Nature has already provided everything we need to keep surfaces sanitized, clean and fresh without negatively affecting the environment.
4 Natural Cleaning Sprays
All-Purpose Cleaner
Mix 1/2 cup of white vinegar and 2 Tbsp of baking soda with 10 drops of your favorite essential oil (lemon, tea tree or lavender are good choices). Add the mixture to a glass or BPA-free spray bottle filled to the top with water. This recipe works well with a 12-ounce bottle. Shake the mixture gently, then spray on hard surfaces and wipe with a clean cloth. Allow to dry fully, and your surfaces will be squeaky clean and fresh.
All-Natural Air Freshener
Store-bought air fresheners can contribute to allergies, asthma symptoms and even cause headaches due to the number of chemicals they are manufactured with. Make your own air freshener with 12–15 drops of a citrus essential oil mixed with 1/2 cup white vinegar and water in a spray bottle. Adjust the water or natural oil to get a stronger concentration that smells delicious and also has therapeutic health benefits. Always shake the bottle before each use.
Non-Toxic Drain Cleaner
Drain cleaners contain some of the strongest chemicals that are used in households. To avoid these caustic chemicals and protect your sink's beautiful finish and piping, sprinkle 1/2 cup of baking soda down the clogged drain and follow with 1/4 cup of white vinegar. The bubbling action will work to unclog a greasy mess and get rid of bad odors. After an hour, pour boiling water down the drain to rinse the solution and gunk through the pipes.
Homemade Soft-Scrub
To scrub grime from shower doors, bathtubs, ovens, refrigerators, and windows, mix 1 1/2 cups of baking soda with 1/2 cup of eco-friendly laundry detergent and 10 drops of lemon or lavender essential oil. Store in an airtight container and use with your scrubber to remove stuck-on grime and soap scum.
Looking for your next Houston apartment home? Check out the fantastic amenities at Haven at Eldridge. Stainless steel appliances and lofty nine-foot ceilings are just the beginning of an exciting living experience near Houston's Energy Corridor.