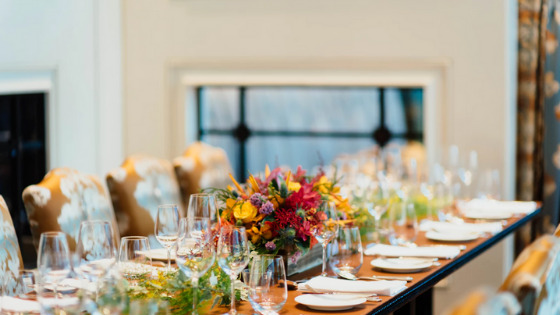 Dinner parties are often the best way to spend quality time with family and friends. Your apartment is the ultimate location to host one, but if you want it to be a success, there's a lot more to consider than just the menu.
Setting Up
Ideally, you want to create an open, inviting environment where everyone can relax and enjoy the evening. Don't be afraid to move some furniture around or even temporarily store it in another room when hosting a party.
Setting the Tone
To enhance your party's atmosphere with warm mood lighting, place a few tea lights or candles around your apartment. String lights from the walls or even over your dining table.
Planning Your Menu
No matter your level of culinary expertise, always try and keep your menu seasonal. Doing so also offers the chance to plan your evening around a theme such as "Fall Harvest" or "Breakfast for Dinner." To add that extra creative touch, consider writing out your menu on a poster board and hanging it on a wall to get your guests talking and anticipating.
Hosting Your Guests
Try and get most, if not all, of the cooking done in advance so that you're ready to be more of an entertainer than a chef. Make sure there's an open bottle of wine or a few cocktails ready to go as soon as guests arrive. Have trays of appetizers spread around the room, for example, a cheese plate on the coffee table and finger foods on the entertainment center. This will encourage people to mingle rather than congregate in one spot.
Want to see our spacious floor plans so you can host your next dinner party? Give our team a call today to set up a tour!